Berlin – article published in the Czech monthly magazine Glanc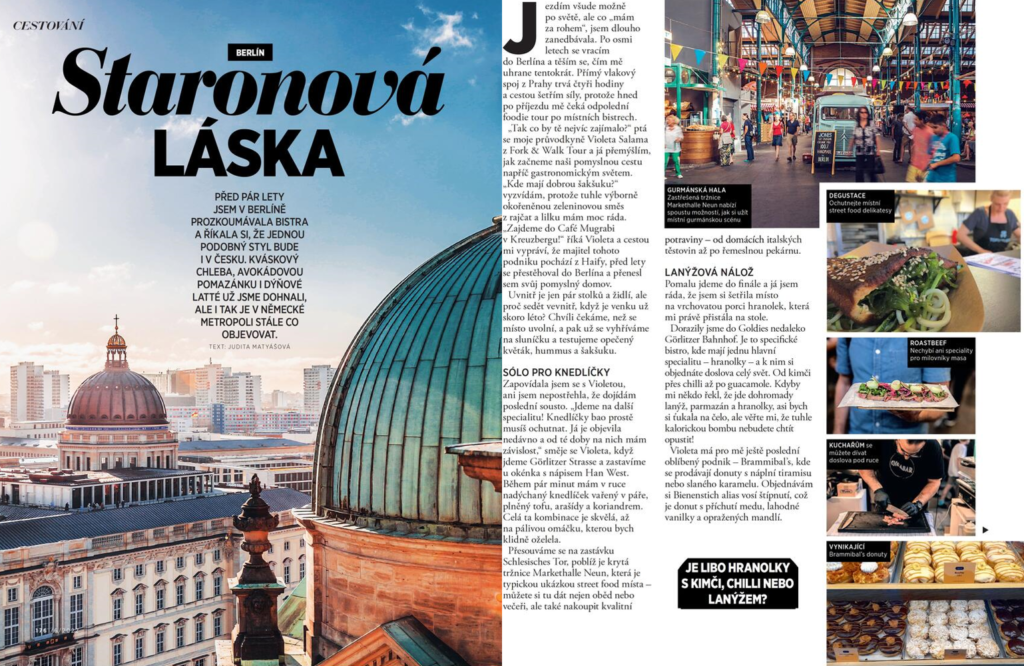 OLD NEW LOVE – BERLIN
A few years ago, I was exploring bistros in Berlin and thought that one day we would have similar style in the Czechia. We have already caught up with sourdough bread, avocado spread and pumpkin lattes, but there is still so much to discover in German capital.
I travel all over the world, but I have long neglected what is "just around the corner". After eight years, I'm returning to Berlin and I'm looking forward to seeing what it has in store for me this time. The direct train connection from Prague takes four hours, and I'm saving my strength on the way, because as soon as I arrive, I'll be treated to an afternoon foodie tour of local bistros.
"So what would you be most interested in?" asks my guide, Violeta Salama of Fork & Walk Tour, and I wonder how we'll begin our imaginary journey across the gastronomic world.
"Where do they have good shakshuka?" I ask, because I love this deliciously spiced vegetable mixture of tomatoes and eggplant.
"Let's go to Café Mugrabi in Kreuzberg!" Violeta says, and on the way she tells me that the owner of this place is from Haifa, moved to Berlin years ago and brought his imaginary home here.
There are only a few tables and chairs inside, but why sit inside when it's almost summer outside? We wait a while for a seat to open up, and then we're basking in the sun and testing out the roasted cauliflower, hummus and shakshuka.
SOLO FOR DUMPLINGS
I was chatting with Violet, I didn't even notice I was finishing my last bite. "Let's go to the next special! You just have to try the bao dumplings. I discovered them recently and have been addicted ever since," Violeta laughs as we walk down Görlitzer Strasse and stop at a window that says Han West.
Within minutes I have a fluffy steamed dumpling in my hand, filled with tofu, peanuts and coriander. The whole combination is great, except for the hot sauce, which I could have happily wished for.
Moving on to the Schlesisches Tor stop, nearby is the Markethalle Neun indoor market, which is the quintessential example of a street food spot – you can not only have lunch or dinner here, but also shop for quality food – from homemade Italian pasta to artisan bakery.
THE LANAI LOAD
We're slowly heading into the final stretch, and I'm glad I saved room for the heaping portion of fries that just landed on my table.
We've arrived at Goldies near the Görlitzer Bahnhof. It's a specific bistro where they have one main specialty – fries – and you can literally order the world with them. From kimchi to chilli to guacamole. If someone told me that truffle, parmesan and fries go together, I'd probably tap my forehead, but trust me, you won't want to leave this calorie bomb!
Violeta has one last favorite place for me – Brammibal's, which sells donuts filled with tiramisu or salted caramel. I order the Bienenstich aka wasp bite, which is a donut flavored with honey, delicious vanilla and toasted almonds.
SOLITUDE TOGETHER
The next day I take a gourmet break, because now I have visual "food" to look forward to. Every time I visit Berlin, I go to see at least one photography exhibition. Last time I saw Helmut Newton's images, which presented women as confident superheroes. This time I'm interested in the retrospective at the Gropius Bau gallery, which is open until August 7.
It features the work of Indian photographer Dayanita Singh. She is not a hunter of perfect bodies like Newton, but she is interested in intimacy and physicality. "This is the first ever exhibition where Dayanita is presenting several thematic series.
From documentary photography to portraits to architectural images. But one thing they have in common is that she approaches photography as something that connects her with people. She literally says she dances around them with her camera, observing them from afar," says curator Stephanie Rosenthal, standing at the series titled Go Away Closer. In it, Dayanita explores a feeling that probably everyone has experienced at some point – you're in a relationship with someone, but you feel alone. The main photo is of a woman curled up on a bed. And then other images where I see empty rooms or half-ruined houses. They all share the same symbolism – a shared loneliness.
FASHION ICON
See beauty in a different way at the exhibition Dior and its successors at the Kunstgewerbemuseum, open until 26 June. The curators wanted to show the chronological lineage of this important fashion brand.
The show starts with Christian Dior's early designs and moves on to dresses by his successors, Yves Saint Laurent, Marc Bohan, Gianfranco Ferré and John Galliano, which are presented to the public for the first time.
I am guided through the exhibition by Nikolas Wunderlich, who is studying fashion design at Berlin's Macromedia School of Art and recently had the exceptional opportunity to explore individual models from the Dior collection with his classmates. "It was a very interesting experience, because it's not often that you hold a dress that was made by professionals many years ago and still looks almost like new.
We were interested not only in the cut, but also in the materials used. It was a kind of fashion archaeology," recalls Nikolas, who, like other students, took Dior and its successors as free inspiration for his future work. "I really like the 1953 Dior dress called Mexique, which is embellished with hundreds of glass beads. It shows the typical Dior line, which is a figure-hugging silhouette with a narrow waist and wide skirt."
NEW IDENTITY
Unlike Prague, Berlin has several centres. Here you won't find one Wenceslas Square – one Staromak, but there are places that are of utmost importance to the city's inhabitants.
One of them is the site by the Museumsinsel bus stop, which is more than thirty thousand square metres in size. For many years there have been discussions about what should stand here and what should be demolished.
How can such a convoluted history be explained? Find out on the ground floor of the Humboldt Forum Cultural Centre, where there is free admission to the projection room. On a giant panoramic screen, the history of this place literally unfolds before you: here stood the royal palace of the Hohenzollern family, who ruled the whole of Germany. The monumental building was damaged during the Second World War and finally came down in 1950. In 1976, the Palace of the Republic was built here, which housed the East German parliament and hosted political and cultural events. But after German reunification, the Palace became a symbol of a bygone era.
Some Berliners were keen to preserve it, others wanted to remove it and "cut off" the past for good.
Last year, the new Humboldt Forum was completed, with architect Franco Stella combining old and new. The façade features Baroque sculptures from the original royal palace, while the interior has a minimalist architecture.
ATYPICAL BERLIN
One intricate question was unravelled and another arose: who are the inhabitants of Berlin? What attracts people from all over the world? Why do all sorts of alternative lifestyle trends thrive here?
These are exactly the questions that curator Paul Spies addressed when he was preparing the permanent exhibition Berlin Global on the first floor of the Humboldt Forum. Each room has a different theme, from ethnic minorities to fashion to music.
I was intrigued by the section where there is a round table that symbolizes the wheel of Berlin's modern history and the turning years on it. Spin it around and you might just hit 1989, within seconds a projection of period footage of the Berlin Wall being torn down begins.
And the final tip? A section on music, featuring hits by famous singers whose work was influenced by Berlin. The first one I see is David Bowie, and I'm transported back to my teenage years, when I had a Walkman and waited impatiently for my older brother to lend me a cassette tape he'd played hundreds of times and I'd hear Bowie singing Heroes again – a song inspired by a couple in love at the Berlin Wall.
Catalunya – article published in the Czech monthly magazine Glanc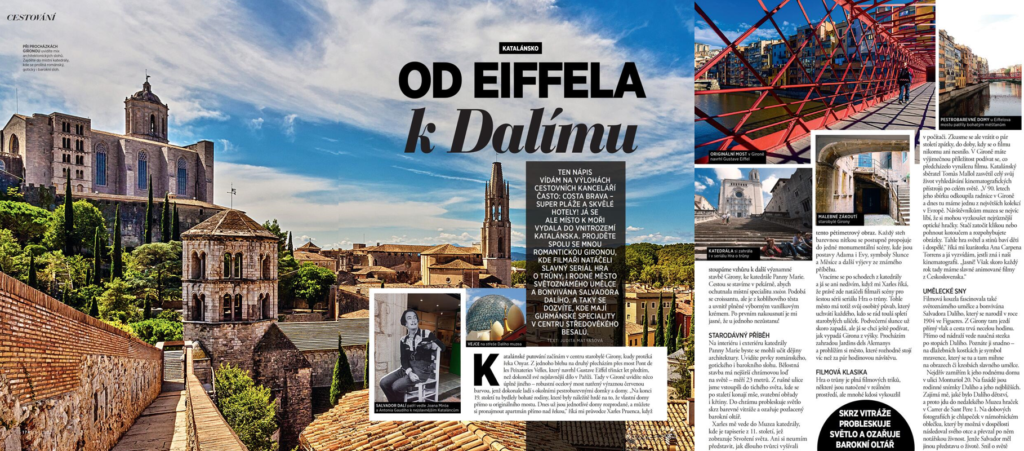 CATALUNYA – FROM EIFFEL TO DALÍ
I often see this sign in the windows of travel agencies: the Costa Brava – great beaches and great hotels! But instead of going to the sea, I went inland to Catalonia. Join me as I walk through the romantic Girona, where the filmmakers shot the famous Game of Thrones series, and the hometown of world-famous artist and bon vivant Salvador Dali. You'll also find out where the gourmet specialities are in the centre of medieval Besalú. I begin my Catalan journey in the centre of ancient Girona, where the Onyar River flows. From one bank to the other, I cross the Pont de les Peixateries Velles, designed by Gustave Eiffel thirteen years before he completed his most famous work in Paris. Here in Girona, you'll see something completely different – a sturdy steel bridge, painted a bold red that blends in perfectly with the surrounding colourful houses and homes. "At the end of the 19th century, wealthy families lived here and were duly proud to own houses right next to the original bridge. Today, individual houses have sold out, and you can rent an apartment right on the river," my guide, Xarles Pruenca, tells me as we climb up to Girona's other major structure, the Cathedral of Our Lady. On the way, we stop at a bakery to sample the local specialty, xuixo.
It's similar to a croissant, but made with doughnut dough and filled with a delicious vanilla cream inside. After the first bite, I know I won't be staying with one!
AN ANCIENT STORY
You could learn architectural history from the interior and exterior of St Mary's Cathedral. You will see elements of Romanesque, Gothic and Baroque styles. The whitewashed building has the widest nave in the world – it measures 23 metres. From the bustling street we entered a quiet world where masses, wedding ceremonies and baptisms have been held for centuries. Light flashes into the church through stained glass windows and illuminates the gilded Baroque altar.
Xarles leads me to the Cathedral Museum, where an 11th-century tapestry depicts the creation of the world. I can't even imagine how long it took the creators to embroider this five-metre-long painting. Each stitch of colored thread is gradually interconnected into one monumental scene, featuring the figures of Adam and Eve, symbols of the sun and moon, and other scenes from the familiar story.
We walk back down the steps of the cathedral and I'm not surprised when Xarles tells me that this is where the filmmakers shot scenes for the sixth season of Game of Thrones. For this city has a distinctive charm that will captivate anyone who enjoys wandering through the tangle of ancient streets. The evening sun is almost down, but I still want to see what Girona looks like from above. I walk through the Jardins dels Alemanys and take in the city, which is definitely worth more than a few hours visit.
A FILM CLASSIC
Game of Thrones is full of cinematic tricks, some filmed in real life, but many conjured up by someone on a computer. But let's try to go back a couple of centuries, to a time when no one even dreamed of a movie. In Girona, you have a unique opportunity to see what preceded the invention of film. Catalan collector Tomas Mallol has dedicated his life to finding cinematographic devices around the world. "In the 1990s his collection was bought by Girona City Hall and today we have one of the largest collections in Europe. What visitors like most about the museum is that they can try out all sorts of optical toys. Just turn a crank or move a disc and you can move the images. This game of lights and shadows entertains children and adults alike," curator Ana Carpena Torrens tells me, and I ask if she knows our cinema too. "Sure! But almost every year we have famous animated films from Czechoslovakia."
ARTISTIC DREAMS
The world-famous artist and bon vivant Salvador Dali, born in 1904 in Figueres, was also fascinated by the magic of cinema. There is a direct train from Girona and the journey takes less than an hour. A nature trail in the footsteps of Dalí runs directly from the station. It's easy to recognise – the paving stones bear the symbol of an ant, which appears here and there in paintings or drawings by the famous artist.
First, I head to his birthplace at 20 Monturiol Street. I'm interested in what Dalí's childhood was like, so I go to the nearby Toy Museum at Carrer de Sant Pere 1. The period photographs show a little boy in a sailor suit who might have followed his father into the notary trade as an adult. But Salvador had a different idea of life. He dreamed of the art world and persuaded his father to allow him to study at an art school in Madrid. Salvador returned regularly to his hometown and one of his favourite places was the Hotel Duran in the centre, which is still owned by the family of the original owners.
You can enjoy the lunch menu here, where there are several dishes to choose from, from paella to fish specialties. Be sure to peek into the lounge next to the restaurant. There are pictures of Dali and his friends on the walls, and you'll learn that it was here that he announced that the local theatre would be converted into his museum thanks to the support of councillors. If you want to take in his fantasy world, then definitely buy tickets on the museum's website to avoid the queues. As soon as you walk in, you will literally be on the scene – paintings, sculptures, drawings, furniture, jewellery and much more. There are also portraits of his muse, Gala, and scenes from his dreams, which Dalí often incorporated into his paintings.
DRAMATIC FATES
The following day I leave the world of fantasy and dreams and head to the border town of La Jonquera, where I am treated to a series of stories from the recent past, but which have a great connection with the present.
"Where do you think they're going?" my guide Roser Raluy asks me as we enter the Museum of Exile and a large photograph of people with backpacks on their backs is in front of us. "These are pictures of the Catalans who fled here in early 1939 from General Franco's army. Within two weeks, hundreds of thousands of people from all over Catalonia arrived here, hoping to be safe when they crossed the border into France. But many of them were deported to refugee camps in the south of France, and later to the Mauthausen concentration camps," Roser tells me, as I look at the faces of the terrified people who made the journey into the unknown in just a few hours, and I find it hard to believe that history is repeating itself again…
THE CIRCUS MARQUEE
On my last day in Catalonia, I have one more trip into the past. This time Roser and I will be going to the medieval town of Besalú, where there is another unique museum with the prosaic name of Circusland.
We are welcomed by Genís Matabosh, owner and collector of all things circus related. He has spent 20 years building up his collection to open Europe's only circus museum the year before last. In the very first room, he shows us the museum's main attraction – the largest model of a circus in the world, which fills one entire room. Dutch engineer Ben van Herwerden spent 40 years piecing together the figures of performers, animals and marquees around a giant marquee. I look closely at the titular work and imagine this whole circus world coming to life.
Speaking of circus art, I wonder if Genís has something of our own. He spends a moment bugging me, searching through his giant archive, and finally opens the right drawer with a poster that says CIRCUS HUMBERTO.
GOURMET DOT
We end our journey together in Besalú on the terrace of the Cúria Reial restaurant, with a spectacular view of the countryside. Before Roser tells me the last stories of the day, I peruse the menu and again don't know what to choose, because everything looks tempting, from herb-roasted lamb to grilled sea bass. And the best ending is strawberry soup with coconut ice cream!
A gourmet treat is also described to me by Roser, who published an original recipe book some time ago. "I've worked in a ceramics workshop all my life and travelled to craft fairs around the world, but a few years ago I thought I'd try something completely different and signed up for a guided tour course. My cookbook is full of recipes from people I've met on my travels. And did you know I have one of yours in there? At the end of 1989, I went to Czechoslovakia to see my friend Vladimir Groh, who also makes ceramics. His mother cooked a filet mignon that I liked so much that I asked her for the recipe in my cookbook, and sometimes I cook it for my children," Roser says, and I wonder how it is that I always discover the Czech connection in foreign countries.